Amo, Amas, Amat & Allathat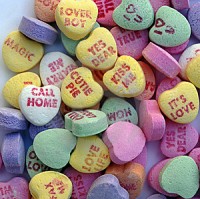 Since Valentine's Day is just around the corner, we thought you might enjoy some thoughts on the age old question of  love & all it entails.
And, since we've been sharing sage words on the topic at the shop (on our recycled chalk boards), perhaps you'd enjoy them on-line too.
Romantic, educative, snarky – it's all about love in the end, isn't it?
Or, at least, something like love…
There is no living with thee, nor without thee. - Marcus Valerius Martial
Your heart is my pinata. - Chuck Palahniuk
I have been surpised that men could die martyrs to their religion -  I have shuddered at it -  I shudder no more -  I could be martyred for my religion – Love is my religion – And I could die for that – I could die for you. - John Keats
Love is the delusion that one man or woman differs from another. - H. L. Mencken
If i has to choose between loving you, and breathing, I would use my last breath to say I LOVE YOU - dani b.
The best & most beautiful things in the world cannot be seen or even touched.  They must be felt with the heart. - Hellen Keller
There is only one happiness in life – to love & be loved. - George Sands
When you are in Love you can't fall asleep because reality is better than your dreams. - Dr. Seuss
I have found men who didn't know how to kiss.  I've always found time to teach them. – Mae West
To love oneself is the beginning of a life-long romance. – Oscar Wilde