Get Your Survival Kits Here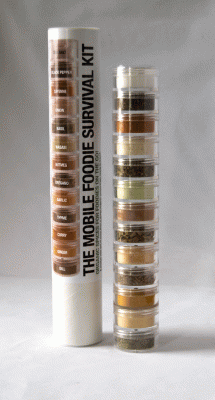 We got your survival kits here… your Mobile Foodie Survival Kits, that is.
Designed by an awesome couple in Williamsburg, these pocket-size kits are filled with USDA-certified organic spices.  The spice kits (and Herb Seed Kits, which we also have) are assembled upstate by a team of adults with physical and medical handicaps at the Mid-Hudson Workshop for the Disabled.  Lately, the kits have been biked over to Green in BKLYN by the designers from their Williamsburg home.
The containers are BPA-free and fully recyclable and the tubes are made of post-consumer recycled paperboard.
The thirteen awesome organic spices necessary for foodies, college students, campers, new home owners, new spouses and folks in general include organic basil, cayenne, curry, dill, granulated garlic, ginger, nutmeg, oregano, thyme, granulated onion and black pepper, as well as sea salt and wasabi powder.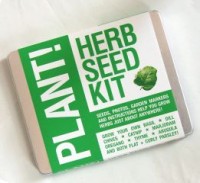 The Herb Seed Kit includes cards with instructions for planting, caring for and harvesting as well as seeds for all these groovy herbs: basil, dill, chives, catnip, marjoram, oregano, thyme, arugula, curly parsley and flat-leaf parsley.