Change by Us NYC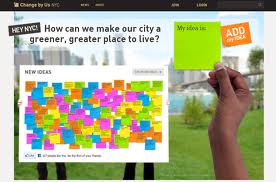 Lots of New Yorkers have ideas of how to make NYC & Brooklyn greener & more sustainable.  Now, the City has introduced a website to help
turn those ideas into action.
Change by Us NYC is the City's new social media tool for greening New York's neighborhoods. Change by Us NYC allows participants to post ideas, connect with other New Yorkers, find City & non-profit resources & start projects to make NYC greener & greater.
So if you have an idea for a greener, greater New York, log on & connect to the people & resources you need to make it happen.
Currently, Change by Us NYC is offering 20-40 mini-grants between $500 & $1,000 each to support selected projects on the site.  Eligible projects must be focused on neighborhood gardening & agriculture, tree or park stewardship, or composting.
It's a great opportunity to come together to create new or improved gardens to produce local produce & decrease the carbon footprint of Brooklyn neighborhoods. The mini-grant application deadline is August 15th.  So review the application details & don't wait to apply.