Scare Your Friends – Not Your Wallet!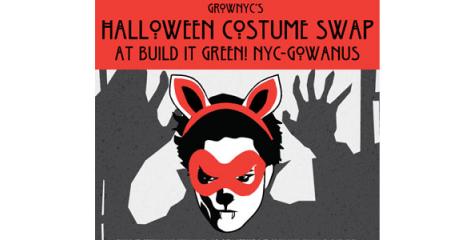 Not impressing Bella with last year's vampire outfit?  Bring last year's clean costumes, accessories and funky clothing or just help yourself to some free Halloween fashion at GrowNYC's Halloween Costume Swap.  Swap items limited to clothing, costumes, and accessories only please.
WHAT: FREE Halloween Costume Swap at Build It Green! NYC – Gowanus
WHERE: 69 9th Street, Gowanus, Brooklyn NY 11215
WHEN: FRIDAY, October 28th    3pm – 6pm
Take a sneak peek at Build It Green! NYC's new non-profit salvage surplus warehouse in Gowanus, Brooklyn – their second reuse center in the city!  Activities include recycled cardboard mask-making with Solar One, spoke flowers hand crafting with Recycle-A-Bicycle, Halloween-themed music, a bone-chilling haunted house, festive family-friendly movies to watch, and an apple/donut-eating contest thanks to GrowNYC's Greenmarket! There will also be a raffle for a children's bike, thanks to Recycle-A-Bicycle!  RSVP for this event at www.bignyc.org/halloween.
For more information call 212-788-7989.