Bananarchy Reigns – Sat. 11/5 2-4pm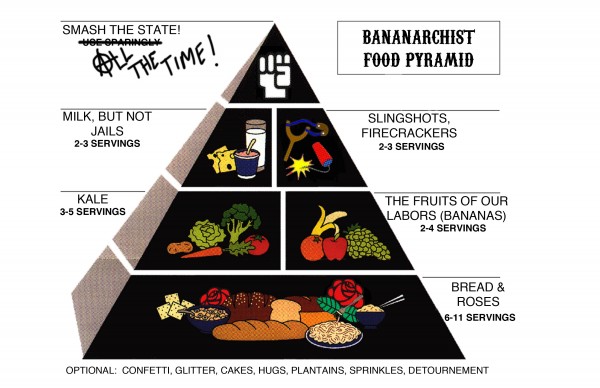 On Saturday, November 5th from 2-4pm, Green in BKLYN hosts a book signing & recipe tasting with Jane Gish, author of the Bananarchist Cookbook.
The Bananarchist Cookbook is organized like many cookbooks but is  interspersed with anarchist trivia, jokes, useful phrases in foreign languages, games, love letter mad libs, fortunes, manifestos, surveys &, of course, recipes like:
Red Quinoa Salad with Lime Chipotle Dressing
Butternut Squash & Chestnut Soup
Rosemary Buttermilk Biscuits
Blackberry Apple Basil Crumble
Warm & Toasty Toddy Coffee
If a typical cookbook instructs one on how to make food, this cookbook offers additional instructions on making mischief & connecting with others.  The Bananarchist motto is:
Hug it out.
Be truthful to your vision.
Break bread with your compatriots.
In addition to penning this lovely, loving cookbook, Jane is the maven of Super Foxy Sweets' vegan & gluten free truffles.  So you know it's gonna be a tasty event…  Hope you'll come & break bread, compatriots!