BKLYN's Very Own Diner Mug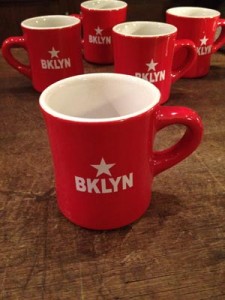 They just came in… The most lovely BKLYN diner mug that tops all mugs to date!
Designed here in BKLYN & crafted with care in the USA, these beautiful mugs are the quintessential diner coffee/tea/cocoa cache with a serious borough twist!
Plus, their introduction into the shop allowed me to meet two of the loveliest shop owners/designers in BKLYN – Lim & Michael from enamoo (over on Smith Street).  Enamoo is filled with their Brooklyn themed designs as well as groovy vintage stuff.  Definitely worth a visit.
I hope to add more enamoo designs here at the shop (awesome silkscreens & baseball caps, perhaps?).  In the meantime, we've got the BKLYN diner mug as long as they're available.  Yay, BKLYN!