Brooklyn Dirt Talk 3: Post-OWS Grass Roots Organizing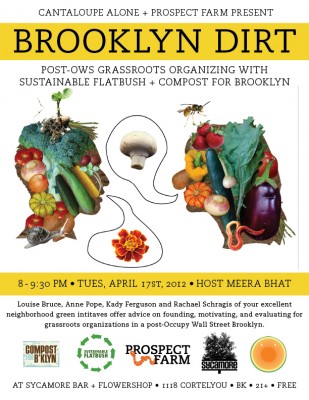 Brooklyn Dirt Talk Three: Post-OWS Grass Roots Organizing takes place this month with advice from experienced Brooklyn leaders on founding, motivating and evaluating for grass roots organizations. Panelists include folks from Sustainable Flatbush as well as Compost for Brooklyn. The event is hosted by Meera Bhat.
Who, What, Where, etc.
Date: Tuesday April 17st, 2012
Time: 8 – 9:30 pm
Location: Downstairs @ Sycamore Bar and Flowershop 21+
Address: 1118 Cortelyou Road, Brooklyn (take the Q train to Cortelyou)
For Facebook: Click HERE.
Sustainable Flatbush brings neighbors together to mobilize, educate and advocate for sustainable living in their Brooklyn neighborhood and beyond and is founded by Anne Pope. For more info: http://sustainableflatbush.org/.
Compost for Brooklyn In March 2010, the corner lot on Newkirk Avenue and East 8th Street was vacant, unused, and full of trash. With no funding and a single shovel, neighbors and friends came together to tackle the project of transforming the space into a community composting project. In 2011, Compost for Brooklyn composted 50,000 pounds of food scraps and yard waste from about 200 households, welcomed 4500 visitors and formed lasting partnerships with numerous organizations from the local level to the international. For more info: http://compostforbrooklyn.org/.