Pangea's Back with Free Stuff!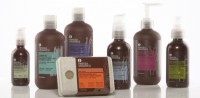 This weekend Miss Rachel from Pangea Organic's will be stopping by Green in BKLYN.  She's got free samples of as well as information about Pangea Organics' skin care line.
So how do you get in on the free stuff?  See below…
Who: Pangea Organics Skin Care
What: Q&A + Free Pangea Samples!
Where: Green in BKLYN (432 Myrtle Avenue)
When: Saturday, June 9th 2-5pm
How:  Just stop by!
Pangea's mission is to make skincare that's good for you & your body.  That's why they use only plant-based ingredients that nurture you & nourish your skin. Everything they put in their stuff is in there 'cause it's good for you!