The Patch Meets Green in BKLYN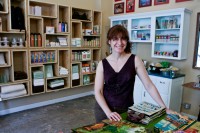 Today we (dog Lola & I) met with Paul Leonard from the Fort Greene – Clinton Hill Patch to talk shop, politics &more such stuff. You can check out the article on-line here.  Or below… PS – Thanks, Paul!
Though her shop selling environmentally friendly cleaning, beauty and recycled paper products has only been open three years, Green in BKLYN owner Elissa Olin is a veteran of a Great Recession, changing consumer tastes and a transforming Myrtle Avenue.
Despite the challenges, Olin—with the help of a diligent staff, loyal customer base and her well-trained dog, Lola—hasn't lost her optimism.
Here's the transcript of our conversation at her store this week:
Patch: There's no doubt that running a small business is a lot of work. Tell us what your chief hassle is on a daily basis?
Elissa Olin: A lot of small business owners get those calls from guys who want to change your energy thing or buy something and none of it has anything to do with running your business. They just want to talk to them while your trying to run your business and take care of your customers.
Patch: It seems like a lot of small business owners we talk to have to be really hands-on these days considering the fact that the economy is tougher and that there might not be money to hire an extra employee. Is that your experience?
Olin: I've been open three-and-a-half years, so in the beginning hands-on was what I was definitely doing. Part of it was a grand scheme plan … to know what I need done in the store before I got someone else to do it. The other is that in the beginning you're not sure if you can afford it. My focus now is getting the right staff in here so I can do the other things that need to get done … Now that we're busier and now that I want to do more, I want to sell online and have a bigger social media presence, I need more staff. I actually have two part-time people and I'm hoping to hire a third part-time person today. Though it's tough to give up control. You have to find a balance.
Patch: In terms of sustainability and shopping habits, do you feel that there it was a fad that made have died down over time? Or do you feel that the emphasis on buying sustainable products is growing?
Olin: I do think it's growing. If you do research—when I did research for my own business plan—you will find that it is indeed growing. The lifestyle of health and sustainability is increasing every year exponentially. I think that media does cover it more at certain times, which helped me as I began to think about starting my business and finding sustainable products. Our business is growing and I continue to hear from people who want to live a "greener" life.
Patch: We're going to get a little political here: In terms of the difference between the two parties, small business owners like yourself have played a central role in a lot of different ways. In the last four years, do you feel that President Barack Obama's policies have been helpful to small businesses? If so, why?
Olin: I came up with the idea for the store in March 2008 and found my space that October … I don't even know why I went forward. I opened at the start of the slump. And I don't know if President Obama has been directly a part of this but I took advantage of a lot of things for small businesses that were free—things that really helped me at a very difficult time.
We're seeing more and more support for small business owners—and as a single owner and, at times, single employee it's been instrumental to opening it and keeping it running.
I also noticed a lot of larger companies helping small businesses in a lot of ways. I worked with nyc.gov, I worked with economic development groups, business plan competitions, and I got grants. I know that American Express has Small Business Saturday after Black Friday. I just did 10,000 Small Businesses, which is a growth program sponsored by Goldman Sachs.
Patch: Myrtle Avenue: How has it changed over the past few years, and do you view those changes as being beneficial, neutral or detrimental to your business.
Olin: It's an interesting question. When I first decided to open, it was important to me that I open in my neighborhood. I live just over Classon so I live in Bed-Stuy by a matter of feet. I wanted to be part of my community, I wanted to contribute to it, and I wanted to be in my neighborhood. I grew up in the East Village in the 60s, so when I moved to Bed-Stuy, the diversity was familiar to me. I was comfortable with it not being so built up … The financial demographic is increasing, we have more businesses here. I have mixed feelings about it because when I moved here it seemed like a simple place where everyone said hello and it was pretty quiet. Which hasn't changed all that much. I think with change there's good stuff and bad … I hope that we're able to maintain the character of the neighborhood that brings people here.