Halloween in the 'Hood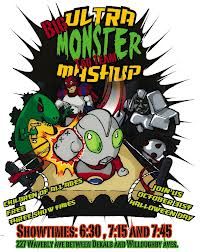 As many folks know, Halloween in Clinton Hill is a very big deal. Here at Green in BKLYN we've been known to provide magic pennies to upwards of 1,000 Trick or Treaters on All Hallow's Eve. "Take this penny… Make a wish, tell everyone you know about that wish and it should come true!"
In addition, our awesome neighbors on Clinton and Waverly Avenues put on ghoulish shows that are nothing short of extraordinary. As a matter of fact, the Daily News featured both ghoul mongers (i.e., producers/directors) of those shows in today's Sunday paper (check out page 37 of today's Sunday Daily News -Fright Fight). I highly recommend watching and supporting both endeavors.
I also recommend you check out the Kickstarter listing for one of those projects at Kickstarter's Brooklyn Halloween Show 2012. Their request for support for this year's show ends today. If you can kick them a little something something, you'll be helping to support a huge part of the awesomeness that is our neighborhood.
Then stop by on Halloween & check out the amazing decorations and both extraordinary shows. It's magical. Like our pennies!