Black Artstory Artwalk on Myrtle Avenue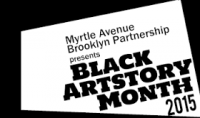 Black Artstory Artwalk 
Myrtle Avenue's Black Artstory Month kicks off this Sunday with an Avenue-wide art walk featuring the work of over 25 local artists from 4-6pm and opening party at Brooklyn Eats on Myrtle from 6-8pm.
This year's theme, Where I'm From: The Black Artstory of Myrtle and Beyond, is inspired by the centuries-long black arts tradition that has thrived in Fort Greene and Clinton Hill through the communities' many evolutions. Curators Remi Onabajo, MoCADA, Pratt Institute's BAKO Tribe, Naimonu James, Daonne Huff, SONYA, PS 20 and Freecandy have selected work guided by the concepts of time, travel and transition. Over 13 businesses along the Avenue will exhibit paintings, murals, and photographs that explore how the past informs our understandings of the here and now.
Click HERE for the Artwalk Map.