Black Artstory KICKOFF: MEET ME AT THE GYM – Feb 5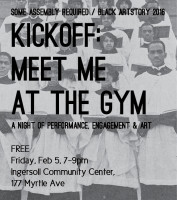 Black Artstory Month/SOME ASSEMBLY REQUIRED kicks-off TONITE – Friday, February 5th – at 7pm with MEET ME AT THE GYM at Ingersoll Community Center, 177 Myrtle Avenue.
The FREE event features the Ingersoll Community Center Youth Drum Line, a roller skating performance by Sophia Dawson & Crew, spoken word, dance performances, art making & more. All ages are welcome. More HERE. 
SOME ASSEMBLY REQUIRED acknowledges the significant role that community building, cross-sector collaborations and collective actions have played within the Black Community in their pursuits for political freedom, cultural revolutions and social change through art. The FREE weekly performances, talks, film screenings, and artwalk all take place on Myrtle Avenue, coincide with Black History Month and feature the work of 50 artists.
Event Schedule:
Fri, Feb 5 Black Artstory KICK-OFF MEET ME AT THE GYM:
Fri, Feb 12 Black Artstory TALK: Art as Protest, Protest as Art
Fri, Feb 19 Black Artstory FILM: RE-Work/Re-Frame
Fri, Feb 26 Black Artstory PERFORMANCE: The Glass Eye 
ALL FEBRUARY Self Guided Artwalk (Art:Inside/Outside)
Black Arstory 2016/SOME ASSEMBLY REQUIRED is presented with the following partners: BLDG 92 at the Brooklyn Navy Yard, Leisure Life NYC, Pratt Institute, and University Settlement at Ingersoll Community Center.