Magic Oranges or No More Mosquitos!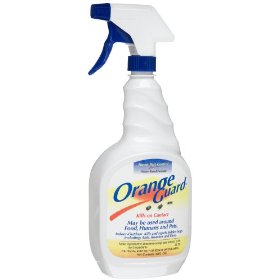 Over the time that we've been open (nearly six whole weeks), we've encouraged our customers to tell us what they want, need, use…
We've introduced about a dozen new products since opening based on customers' questions & requests.
One problem that seemed to descend upon our neighborhood was an infestation of  ants.
Researching options with a customer, we found a product called Orange Guard.  It's a water based insecticide made from d-Limonen (or orange peel extract), which can be used around food, humans & pets, indoors & out.  And the list of the bugs it kills & repels not only includes ants (hallelujah) but roaches, flies, silverfish, dust mites, aphids, fleas & (drum roll, please) MOSQUITOS!  Oh, & snails too.
My best buddy from college called today & said she had a dream that I was a super spy in a futuristic action adventure…  Flattered as I am by her imagination, I pass the mantle on to… Orange Guard.  Kicking & repelling bug butt across this grand country of ours through the power of magic oranges!  Mantle passed.
Besides, it was never really mine to begin with.