About Us
Green in BKLYN offers a one-stop shop where people who'd like to live an eco-friendly lifestyle – and those who already do – can find information and the products they need to easily and innovatively green their home and daily lives.
Committed to encouraging the knowledge and use of green products and practices by making it convenient, easy, informative and fun, Green in BKLYN offers eco-friendly solutions for everyday living.
A one-stop shop for a greener home & life,
Green in BKLYN includes:
Cleaning Supplies (sponges, cleansers, bio bags…)
Recycled Paper Products (stationary, towels, tp…)
Sheets & Towels (for bath & kitchen)
Kitchen Supplies (recyclable & sustainable)
Energy Savers (CFLs, solar powered chargers…)
Beauty Products (lotions, soaps, nail polish…)
Kids Products (toys, pacifiers, diapers…)
Coffee, Tea & Chocolate
Crafts & Books
The idea began when Elissa (founder of Green in BKLYN) & her family decided to make their home more eco-friendly…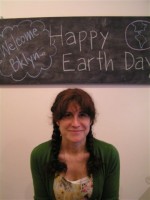 "I'm a native New Yorker raised by tree huggers and living with an Alaskan (who grew up surrounded by abundant natural resources).  In an effort to find a balance between our different experiences, we committed to using things like recycled paper, eco-friendly cleaning supplies and fair trade coffee.
We wanted to act in a way that was healthier for ourselves and our planet… but, like many busy people today, we also needed it to be convenient and easy.  When we searched for these products, we found it harder than we expected…
Smaller stores and national chains carried limited supplies or none at all.  Specialty stores were outside of our neighborhood.  There was no one-stop shopping option for eco-friendly products near our Bed-Stuy neighborhood.  By talking with friends and neighbors, I realized many people faced the same problem… and the idea for Green in BKLYN was born!"